British doctor who documented Syria 'chemical attack' previously held on terror offences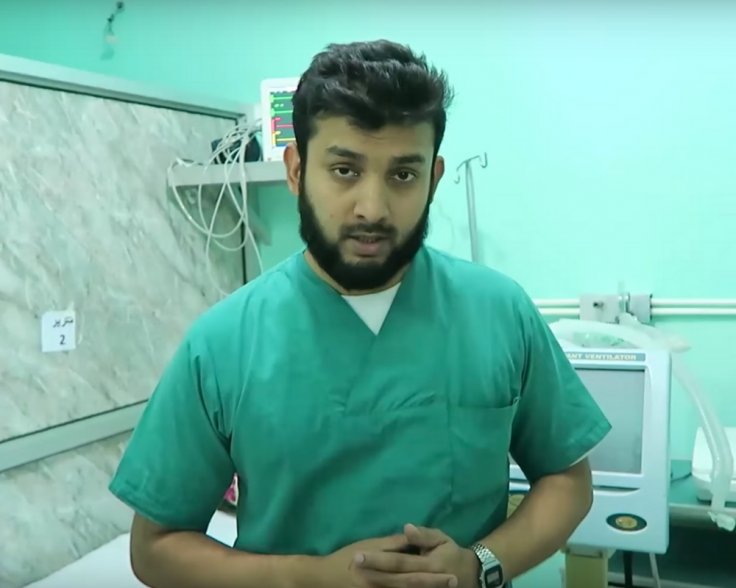 Shajul Islam from London was considered a 'committed jihadist' by MI6.
A British doctor who documented a suspected chemical weapons attack in Syria was considered a « committed jihadist » by MI6 and was struck off the General Medical Council in 2016.
Shajul Islam, 31, posted several videos on Twitter in the aftermath of the Tuesday's (4 April) attack where he appeared to be treating patients in Khan Sheikhoun.
He appeared on several television networks such as NBC to discuss what he saw, but it has now emerged Islam was previously charged on terror offences in the UK.
Islam, from Stratford in east London, first travelled to Syria in 2012 and worked in opposition-held areas of the country such as Al Bab, close to the Turkish border.
But shortly after arriving, he was wanted by MI6 – Britain's foreign intelligence agency – for his alleged role in the kidnapping of British photojournalist John Cantlie and his Dutch colleague Jeroen Oerlemans.
Cantlie and Oerlemans were held captive for nine days after they strayed into a jihadist camp in northern Syria where Islam was working.
Islam maintains he was simply a medic who was not affiliated to any terror groups, but when he returned to the UK in 2013, he was arrested at Heathrow Airport and held in Sussex Police's specialist counter-terrorism units.
Islam was charged alongside his younger brother Najul Islam, who had worked in the Department for Work and Pensions before travelling to Syria, and Jubayer Chowdhury.
All three were held in the high security Belmarsh Prison until they were charged with terrorism offences to appear in Kingston Crown Court.
At the time, intelligence officials were quoted as saying their questioning would help trace the killer of journalist James Foley, who was beheaded by the Islamic State (Isis).
However, in November 2013, Crown Prosecution Service (CPS) lawyer Mark Dennis announced he was unable to proceed as the witnesses, Cantlie and Oerleman, were unable to attend court.
« A problem arose for the prosecution which serves to frustrate the trial from the point of view of the prosecution, » Dennis said, according to a BBC report at the time.
« The two victims in the case are the two prosecution witnesses on which the case rested wholly on their evidence. The prosecution are unable to call either victim for the purposes of the trial listed today. »
Cantlie had remained in Syria and was later kidnapped again, becoming the last-known Western journalist to be taken by Isis. Oerleman's location was not known at the time, but was killed in Libya in 2016 after he was shot by a sniper.
As a result, the court case collapsed and both Shajul and Najul Islam returned to Syria. Chowdhury's location is not currently known.
In March 2016, Shajul was struck off from the General Medical Council after a 16-day confidential tribunal.
In an interview released one month ago, Islam discusses the allegations against him with US journalist Bilal Kareem.
via British doctor who documented Syria 'chemical attack' previously held on terror offences