COVID-19: Who Is Responsible for 'Unfathomable' Deaths? – Association of American Physicians and Surgeons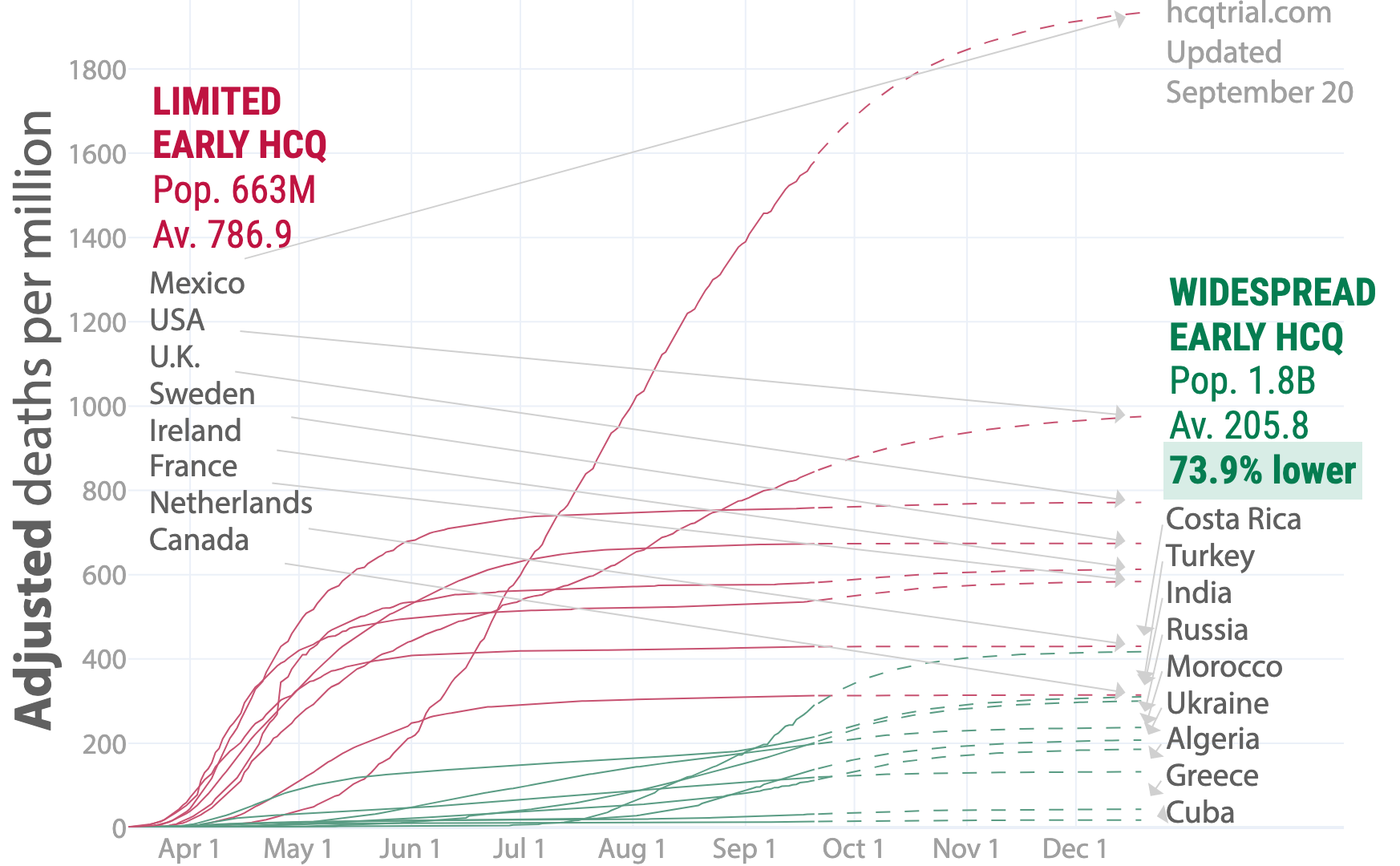 You may well ask why the U.S. should be a world leader in per-capita COVID-19 deaths. Our morning paper calls passing the 200,000 mark "unfathomable."
A better question: Why is the death rate about 75 percent lower in many countries?
The gap seems to be between countries that treat COVID-19 early or prophylactically with hydroxychloroquine (HCQ) and those that, like the U.S., discourage or prohibit its use.
Findings of favorable results with HCQ or chloroquine began to be reported in global publications as early as Feb 6. Most Americans first became aware of HCQ on Mar 19, when President Trump mentioned it during a press conference, alongside other hopeful treatments. He said: "Now, this is a common malaria drug. It is also a drug used for strong arthritis… And it's shown very encouraging—very, very encouraging early results… I think it could be a game changer. And maybe not."
After this, the war on HCQ was on. The President was accused of "touting" an "unproven" and even "very dangerous" remedy. Most of more than 160 media reports published in April and May managed to work the adjective into headlines or opening sentences. Positive evidence mounted but was dismissed as "anecdotal." Americans were told that we needed to await the "gold standard"—randomized controlled trials (RCTs). Organized medicine discouraged use, and state governments restricted or banned HCQ for COVID-19 (but not for lupus or rheumatoid arthritis).
The treatment of HCQ goes "from bad science to malpractice," according to a just-released white paper "Hydroxychloroquine and the Burden of Proof: An Urgent Call to Depoliticize Medicine in the COVID-19 Pandemic," The Economic Standard, September 2020. Take-home lessons:
Flawed and even falsified studies were published and promoted by media outlets eager to discredit Trump, while positive studies were impugned or ignored.
HCQ is commonly prescribed for at least 25 indications in addition to malaria.
HCQ's prolongation of the QT interval is in the mid-range of 30 commonly used drugs.
Hundreds of drugs have been approved without RCTs, including tetanus vaccine, insulin, tetracycline, warfarin, heparin, prednisone, Keflex, and high-dose penicillin for neurosyphilis.
Only 8.5% of the American Heart Association's guidelines are supported by RCTs.
A meta-analysis covering 43 studies concludes: "HCQ was found consistently effective against COVID-19 when used early, in the outpatient setting," adding, "No credible study found worse outcomes with HCQ use. No mortality or other serious safety issue was found."
Four RCTs were problematic for many reasons.
A hundred thousand lives may be needlessly lost because safe, effective treatment was denied. Who is responsible? Influential bureaucrats who control policy and messaging? Social media censors? Major media outlets? Health plans and hospitals? Professional associations?
Source : COVID-19: Who Is Responsible for 'Unfathomable' Deaths? – AAPS | Association of American Physicians and Surgeons