'They're heading for the all-inclusive': Stunned tourists watch 50 migrants storm Spanish beach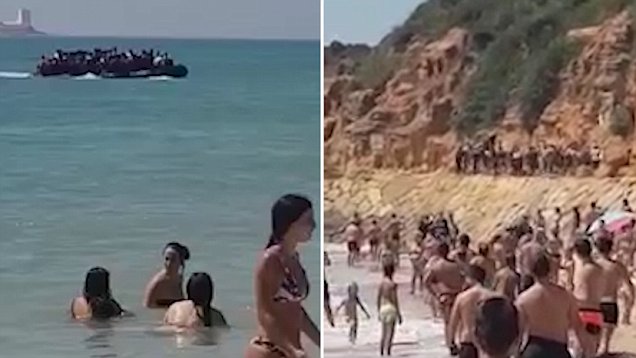 Clip shows packed semi-inflatable vessel beaching near luxury hotel in Spain
Tourists watched open-mouthed as migrants poured on to beach and up cliffs
Incident filmed on Barrosa Beach in southern Spain's Costa de la Luz on Sunday
Spain has overtaken Italy as preferred destination for migrant arrivals in Europe 
This is the astonishing moment migrants stormed a packed tourist beach and clambered up a cliff after jumping off their boat in southern Spain.
Holidaymakers watched open-mouthed as the semi-inflatable Zodiac carrying around 50 Moroccans – including about ten children – beached near a luxury hotel area on Spain's Costa de la Luz.
Footage shows refugees sprinting up the popular Barrosa Beach at about 3.30pm on Sunday before attempting to scale cliffs.
The incident happened near a purpose-built residential and tourist resort called Sancti Petri which boasts shops, restaurants and several four and five-star hotels.
A tourist filming the scene could be heard saying in Spanish as the migrants leapt from their boat: 'Look how they're running towards the Sancti Petri Melia Hotel. They're heading for the all-inclusive Melia Sancti Petri. Look, look, look.'
Astonishing footage captures the moment a group of African migrants stormed a packed tourist beach and jumped off their boat before clambering up cliffs in southern Spain
The incident happened around 3.30pm on Sunday at Barrosa Beach, considered to be one of the best beaches on Spain's southern coast
A witness, who told how beachgoers took mobiles that had been left in the boat, added: 'We thought they weren't going to reach the beach because it's not something that's normal in this area, but they leapt off the Zodiac very quickly and began to climb up the rocks.'
Civil Guard officers said this morning 25 of the migrants had been intercepted – 19 of whom were minors. They said all were Moroccans.
A spokesman for the force said the six adults would be taken to an adult migrant holding centre before being returned to their country of origin as part of an agreement with Morocco.
He said the 19 minors, whose ages he could not specify, would be taken to youth centres run by the regional Junta de Andalucia government.
He said: 'None of those intercepted have been arrested as they haven't committed a crime. They will be dealt with differently depending on whether they are adults or minors.
'The minors will be taken to youth centres and the adults to a secure migrant holding centre called a CIE.
'The return of the adults to their country of origin will be fairly quick.'
Sources said the minors would remain in Spain. One said: 'We don't know exactly how many people were on the boat but it's obvious a number of the migrants managed to get away undetected.
The incident happened near a purpose-built residential and tourist resort called Sancti Petri which boasts shops, restaurants and several four and five-star hotels
Tourists were swimming in the sea and sunbathing when the packed vessel arrived at the beach
Holidaymakers watched open-mouthed as the semi-inflatable Zodiac carrying nearly 50 Moroccans including about ten children beached near a luxury hotel area on Spain's Costa de la Luz
'The authorities are still looking for them.'
Last month around 50 migrants were filmed landing on a packed beach and sprinting up the sand at a beach in Zahora a half-hour drive away and close to the headland of Cape Trafalgar near where Horatio Nelson defeated Napoleon's combined Spanish and French fleet.
The men and women videoed jumping from the rickety wooden boat known as a patera in the July 28 arrival, were from sub-Saharan Africa.
Days earlier, dozens of migrants were filmed storming another southern Spanish beach as confused sunbathing nudists watched on.
The dramatic clip, taken on the beach at Tarifa, showed a group of more than 30 migrants landing in a dinghy before sprinting off into woodland surrounding the beach to evade the pursuing Spanish border guards.
Spain has overtaken Italy as the preferred destination for migrant arrivals in Europe this year after Italy's new hardline Interior Minister Matteo Salvini introduced a blanket ban on migrant boats entering the country's ports.
The number of migrants and refugees using the western Mediterranean route to reach Spain stood at 20,992 between January 1 and July 25 according to the IOM, close to the 22,108 people who used it during the whole of last year.
Coastguards rescued more than 60 migrants in the Gibraltar Straits yesterday – 28 less than on Saturday when 88 migrants were rescued.
Meanwhile, Spain last week sent 116 migrants back to Morocco after they entered the country illegally.
Deputy Prime Minister Carmen Calvo said a 1992 agreement with Rabat had been activated to expel the migrants.
It came after the refugees used what she described as 'unacceptable' violence when storming fences separating Spain's North African enclave of Ceuta from Morocco on Wednesday. Seven policemen were hurt in the incident.
Calvo said Spain would keep receiving migrants rescued in the Mediterranean in a 'safe and humanitarian' manner.
Sub-Saharan Africans living illegally in Morocco often try to enter Europe by scaling fences surrounding Ceuta and Melilla, Spain's other North African enclave.
Migrant arrivals in Spain have spiked in recent months, placing strain on public services and putting political pressure on the government.
Migrant routes to Europe: What are the long and perilous routes thousands of people are taking?
Illegal migrants seeking to enter Europe use various long and perilous routes that are evolving as authorities attempt to stem the flow of new arrivals.
Here is an overview of how people are reaching the continent.
How do migrants reach Europe?
Most arrive by crossing the Mediterranean, according to the UN High Commissioner for Refugees (UNHCR), with 172,000 entering through Greece, Italy and Spain last year.
The number of arrivals is down sharply from the peak in 2015, when 1.02 million entered Europe via the Mediterranean.
Since the start of this year there have been 44,370 arrivals; that is far below the 48,000 who entered Greece over just five days in October 2015.
Maltese paramedics aid migrants on board the Lifeline NGO rescue vessel stranded in the Mediterranean with more than 200 migrants as it finally berthed in Valletta, Malta, on 27 June 2018
What are the routes across the Mediterranean?
Most of the crossings last year were from Libya or Tunisia into Italy, known as the 'Central Mediterranean' route, says the EU's Frontex border agency.
It was used by 118,962 people, mostly Nigerians, Guineans and Ivorians.
But arrivals via this route have plunged 75 per cent since a controversial July 2017 deal between Rome and the Libyan coastguard.
Crossings have also dropped sharply from Turkey to Greece, the 'Eastern Mediterranean' route. After close to 900,000 migrants in 2015, Frontex recorded only 42,000 last year, essentially Afghans, Iraqis and Syrians.
The decline came after a 2016 deal between the EU and Turkey in which Ankara agreed to take back illegal migrants landing on Greek islands in exchange for billions of euros in aid and other incentives.
More recently there has been a sharp increase in the use of a route between Morocco and Spain.
Nearly abandoned until 2000, this 'Western Mediterranean' route saw 23,000 crossings last year, mostly of Algerians, Ivorians and Moroccans.
Since the start of 2018, 17,522 people have entered Europe via Spain, compared to 16,452 via Italy and 13,120 via Greece, the UNHCR says.
The renewed popularity of the route is straining Spain's law-enforcement response and its social safety networks.
Of the 972 who lost their lives at sea trying to make the crossing to Europe, nearly a third (292) died trying to reach Spain.
Other ways into Europe
The main secondary route into the EU is through the western Balkans into Eastern Europe.
Around 12,000 people entered this way last year, most of them Afghans, Iraqis and Pakistanis – a sharp reduction from the 760,000 in 2015.
But this path joins up with one used by migrants who have already passed through Turkey and Greece, meaning the actual numbers of new arrivals don't always add up.
Routes into Europe are constantly evolving: according to the French embassy in Slovenia, a new one is developing from Greece through Albania, Croatia and Slovenia, with nearly 1,800 crossings between January and May this year.
An 'Arctic route' was briefly in operation 2015 when about 100 migrants crossed a day from Russia into Norway on bicycle.
Getting through Africa
There are also several routes from African countries to departure points on the Mediterranean, some involving a dangerous crossing of the Sahara desert.
A Somali leaving from Mogadishu, for example, could travel via Addis Ababa, Khartoum, Cairo and then Tripoli, ahead of the sea crossing to Europe.
An Ivorian leaving from Abidjan might pass via Ouagadougou, Niamey and Agadez – Niger's renowned 'gateway to the Sahara' – to reach Libya.
The high human toll
The UNHCR says it has registered 16,607 migrants dead or missing at sea since 2014.
To this should be added the toll for the perilous Sahara crossing, which the International Organization for Migration says is probably as high as that for the Mediterranean.
United for Intercultural Action, a Dutch group which records the identities of victims of the crossings, says at least 34,361 migrants have died trying to reach Europe since 1993.
'Thousands of others have never been found,' it says.
via 'They're heading for the all-inclusive': Stunned tourists watch 50 migrants storm Spanish beach | Daily Mail Online