Virus-Isolation Is It Real ? Andrew Kaufman M.D. Responds To Jeremy Hammond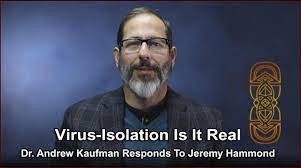 Virus-Isolation Is It Real? Andrew Kaufman M.D. Responds To Jeremy Hammond
This is a Repost from Andrew Kaufman M.D. ; I am reposting just in case it gets removed. This is vital information needs to be shared with those that have been emersed in the subject matter of « (isolation of SARS‑CoV‑2) » the so called virus that causes Covid 19.
Please do your own research.
Andrew Kaufman M.D. refutes Jeremy Hammonds recent article that alleges that Sars Covid II has been isolated. Point by point, Kaufman debunks Hammond's explanation of how a virus is isolated.
The definitions, the science and technology behind isolation and purification, the methodology being used by scientists, and the agenda by governmental agencies are examined with the appropriate corrections. Hammond's argument is the same old one trick pony being trotted out with pomp, circumstance, and pedigree
Source Links:
https://odysee.com/@DrAndrewKaufman:f/Virus_Isolation_Is_It_Real_Andrew_Kaufman_Responds_To_Jeremy-Hammond:9
https://odysee.com/@DrAndrewKaufman:f
https://andrewkaufmanmd.com/
https://www.truemedicinelibrary.com/
https://covid-19-myths.com/
Terrain The Film:
https://terrainthefilm.com/Please support this channel and my efforts. Gratitude & Thanks
LBC Donations: bRcMU2X4wtUw72Y55xbyNmvxquuSVLVLKJ
Bitcoin Donations: 32xzGZPZJQhYgB9WwPDvGLmmxxz6UH6L9J
Thanks for watching.
Please like, share, follow, & support.
Dot Connector Reports
https://odysee.com/$/invite/@DotConnectorReports:eFAIR USE NOTICE: This may contain copyrighted material the use of which has not always been specifically authorized by the copyright owner. We are making such material available in our efforts to advance understanding of criminal justice, political, human rights, economic, democracy, scientific, and social justice issues, etc. We believe this constitutes a 'fair use' of any such copyrighted material as provided for in section 107 of the US Copyright Law. In accordance with Title 17 U.S.C. Section 107, this material is distributed without profit to those who have expressed a prior interest in receiving the included information for research and educational purposes. For more information go to:
http://www.law.cornell.edu/uscode/17/107.shtml